Herkunftsland:
USA
Jahr:
1967
Regie:
James Frawley, Robert Rafelson, Bruce Kessler, Mike Elliot, Sidney Miller, Richard Nunis, James Komack, Alex Singer, Gerald Shepard, Russell Mayberry, Alex Singer, Jon C. Anderson, David Winters, Jerry Sheppard, Jon Andersen, Robert Rafelson, Peter H. Thorkelson, Micky Dolenz
Freigabe:
Ungeprüft(Television)
EAN, Land, Regionalcode:
603497-882465
Laufzeit:
26:20 (1580 Min.)
Verpackungstyp:
Besondere Verpackung
Bildformat:
Color, 1.33:1, Vollbild
DVD-Format:
Einseitig, Zweischichtig
Veröffentlicht:
05. Juli 2016
Sammlungstyp:
Besitz (#366)
Status:
Verfügbar
Kaufdatum:
30. September 2016
Kaufpreis:
Versteckt
Bewertung Film:
Bewertung Video:
Bewertung Audio:
Bewertung Extras:

Übersicht
Discs 1-7

• All 58 original, uncut episodes of THE MONKEES, remastered in HD from the original film negatives
• Audio commentary from all four Monkees
• NEW audio commentary from Micky Dolenz, Rodney Bingenheimer and "Monkee Girl" Valerie Kairys Venet
• Alternate "Saturday morning rerun" versions of 10 episodes with alternate songs and mixes
• All in the original glorious mono direct from the film audio mags

Disc 8

• The 1968 movie HEAD, in HD
• Optional DTS-HD Master Audio 5.1 surround soundtrack
• Audio commentary from all four Monkees

Disc 9

• The 1969 NBC television special 33 1/3 REVOLUTIONS PER MONKEE, restored from newly discovered video elements
• Audio commentary from Micky Dolenz

Disc 10 - BONUS DISC, AVAILABLE IN THIS STRICTLY LIMITED EDITION ONLY! (41.44 minutes total)

• Original screen tests
• Original TV commercial spots featuring The Monkees
• Newly discovered outtakes from THE MONKEES TV series
• Unaired Pilot
• Newly discovered color promo film for "Randy Scouse Git" created for TOP OF THE POPS and unseen since its original airing
• Never-before-seen backstage footage of The Monkees at the 1967 Emmy Awards
• Newly discovered outtakes from the movie HEAD
• Newly discovered outtakes from the TV special 33 1/3 REVOLUTIONS PER MONKEE
• The Monkees on THE JOHNNY CASH SHOW in 1969, including "Nine Times Blue" and "Everybody Loves A Nut (with Johnny Cash)"
• The Monkees on THE GLEN CAMPBELL GOODTIME HOUR in 1969, including a medley of "Last Train to Clarksville/I'm A Believer/Salesman" and a performance of "Tear Drop City"
• The Monkees on ROWAN & MARTIN'S LAUGH-IN in 1969
• Davy Jones performing "Someday Man" from the 1969 TV special MUSIC BAG, unseen since its original airing
• Newly restored color promo film for "Oh My My"

This collection is strictly limited to 10,000

Episodes

1. Royal Flush
2. Monkee See, Monkee Die
3. Monkee vs. Machine
4. Your Friendly Neighborhood Kidnappers
5. The Spy Who Came In From the Cool
6. Success Story
7. Monkees in A Ghost Town
8. Don't Look A Gift Horse In the Mouth
9. The Chaperone
10. Here Come the Monkees-The Pilot
11. Monkees A La Carte
12. I've Got A Little Song Here
13. One Man Shy (Peter and the Debutante)
14. Dance, Monkee, Dance
15. Too Many Girls (Davy and Fern)
16. Son of a Gypsy
17. The Case of the Missing Monkee
18. I Was a Teenage Monster
19. The Audition
20. Monkees In the Ring
21. The Prince and the Pauper
22. Monkees At the Circus
23. Captain Crocodile
24. Monkees A La Mode
25. Alias Micky Dolenz
26. Monkee Chow Mien
27. Monkee Mother
28. Monkees on the Line
29. Monkees Get Out More Dirt
30. Monkees In Manhattan
31. Monkees At the Movies
32: Monkees On Tour
Episode 33: It's a Nice Place to Visit
A trip to Mexico goes south when the evil El Diablo captures Davy.

Episode 34: The Picture Frame
Peter labors to clear the name of his bandmates after they unwittingly rob a bank.

Episode 35: Everywhere a Sheik, Sheik
Davy's hand in marriage becomes the object of affection for a wealthy Arabian princess.

Episode 36: Monkee Mayor
In a bid to save the group's groovy pad, Mike Nesmith runs for mayor.

Episode 37: Art, For Monkees' Sake
Peter gets caught in a plot to counterfeit and steal a priceless Rembrandt.

Episode 38: I Was a 99 Lb. Weakling
Micky's pride is at stake when a muscle man steals his chick.

Episode 39: Hillbilly Honeymoon
Caught in the middle of a family feud, Davy is once again threatened with the prospect of marriage.

Episode 40: Monkees Marooned
When Peter trades his guitar for a treasure map, the group goes in search of buried booty.

Episode 41: Card Carrying Red Shoes
A Druvanian prima ballerina involves The Monkees in a plot to smuggle microfilm.

Episode 42: The Wild Monkees
The Monkees pose as tough bikers to win the hearts of four motorcycle mamas.

Episode 43: A Coffin Too Frequent
The group's pad becomes the scene of a spooky seance.

Episode 44: Hitting the High Seas
When The Monkees take jobs on a shady ship, thoughts of mutiny are bountiful.

Episode 45: Monkees in Texas
The group comes to the rescue of Mike's Aunt Kate, whose ranch is under siege.

Episode 46: Monkees on the Wheel
Micky "Magic Fingers" Dolenz meddles with the mob when The Monkees land in Las Vegas.

Episode 47: The Christmas Show
The Monkees try to instill the spirit of Christmas in a cynical rich kid (played by Butch Patrick).

Episode 48: Fairy Tale
The group put their own twist on a classic fairy tale.

Episode 49: Monkees Watch Their Feet
Pat Paulsen narrates this bizarre tale of alien abduction.

Episode 50: Monstrous Monkee Mash
When Davy falls for a mysterious woman, The Monkees enter a spooky scene with Dracula, a Wolfman, and the Mummy.

Episode 51: The Monkees' Paw
Micky buys a mystical monkey's paw from a malicious magician.

Episode 52: The Devil and Peter Tork
Peter sells his soul to the Devil (Monte Landis) during a lesson in music and morality.

Episode 53: Monkees Race Again
The Monkees come to the rescue of a friend whose race car is the victim of sabotage.

Episode 54: The Monkees in Paris
Bored with the grind of their television show, the group flees to Paris for some free-form frolicking.

Episode 55: Monkees Mind Their Manor
The Monkees travel to England to sort out Davy's inheritance of Sir Malcolm Kibee's estate.

Episode 56: Some Like it Lukewarm
When the band enters a mixed-gender "rockathon," Davy learns that band contests can be a drag.

Episode 57. "The Monkees Blow Their Minds"*
Suffering from writer's block, Peter seeks help from a manipulative mentalist..

Episode 58. Mijacogeo-The Frodis Caper
The Monkees do battle with the evil Wizard Glick (Rip Taylor), who plans to take over the world via the hypnotic spell of television..
DVD-Cover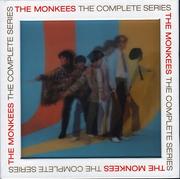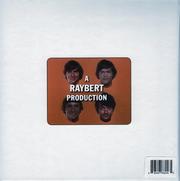 Extras
Szenenanwahl, Trailer, Kommentar, "Songs Only" feature; Discography, "33 1/3 Revolutions Per Monkees" TV Special, "Head " Movie, "Star Collector/Goin' Down" 45" Vinyl Record, Booklet, Alternate Rurun versions